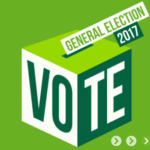 I was recently contacted by a potential voter who, frustrated by our undemocratic electoral system, was agonising whether she should vote for what she really wanted, or vote tactically in an attempt to stop David Davies being re-elected in Monmouth. She asked what is to be gained by voting Green if our chances of success in Monmouth are slim. In my reply I came up with five reasons no vote is wasted and every Green vote in 2017 is important:
First of all, we need to gain 5% of the vote to get our deposit returned. This £500 may not mean much to the other parties, but to us Greens it is a lot of money and will enable us to stand again.
Furthermore, every vote we gain across the UK increases the amount of "Short Money" that we are allocated in Parliament to carry out our role as an opposition party. This funding will support Caroline Lucas and hopefully other Green MPs to fight in Parliament for the policies in our manifesto.
The more votes we get in 2017 will increase the amount of media attention we are given in the next local and national elections. This will give us a higher profile and better opportunities to put our message to the British people.
Every Green vote cast is a signal to government, other parties, the media, business and the people that there needs to be a radical change of direction to tackle climate change, environmental destruction and social inequality. We are the only party with a positive vision for the future and are putting forward a number of progressive and innovative policies that we hope will soon become part of the mainstream. Votes help get our policies taken more seriously.
Finally, I know from talking to local voters and from national polling that there are large numbers of people who would like to vote Green but feel that there is no point. An increased Green vote will encourage other people to vote for us next time. Casting a Green vote next Thursday is planting a seed that will grow and grow and makes a Green victory here and elsewhere more likely in the next election.
So a Green vote is always meaningful and important, despite the outcome of this particular election (and I've not given up on winning on June 8th!).
On the question of whether to vote for what you believe in or vote tactically, you need to consider how realistic is the prospect of Labour's Ruth Jones defeating the Conservative David Davies. In 2015, Davies received 23,701 votes and Jones got 12,719. It is possible for Ruth Jones to win but it would require a very large swing. So if she doesn't win, is a vote here for Labour wasted? Would a Green vote count for more?
Only you can decide how to cast your vote, and best wishes for whoever you decide to vote for on the 8th.